Sam Bridge Nursery & Greenhouse, LLC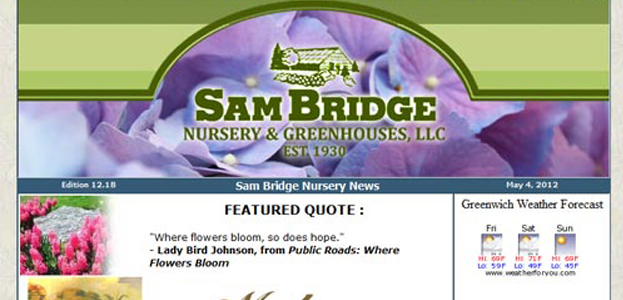 (Greenwich, CT) http://news.sambridgegardencenter.com/current
Click here to see our General Brochure | Click here to see our Landscape Design Brochure
Sam Bridge Nursery and Greenhouses is a full service, year-round, garden center providing our customers with a large selection of top quality plants for the home and garden. We are well known for our outstanding customer service. Our plant material is of superior quality because most of it is grown on site and is not subjected to the stress of shipping. We carry a large selection of trees, shrubs, annuals, perennials, water plants, hanging baskets, mixed planters, pottery, garden supplies, mulches, soils, and more!
We have been in business since 1930 and we have great relationships with the best growers to bring you the highest quality product possible. Most of our well trained and experienced staff are degreed in horticulture and certified Connecticut Accredited Nursery Professionals. We are always happy to provide you with precisely the information you'll need for successful gardening and landscaping.
Sam Bridge Nursery and Greenhouses is also proud to offer you landscape design, installation, and Sam Bridge Premier Garden Care. Let us help you make your home beautiful. No project is too big or too small. We are happy to create and care for the garden of your dreams.
Sam Bridge Nursery and Greenhouse